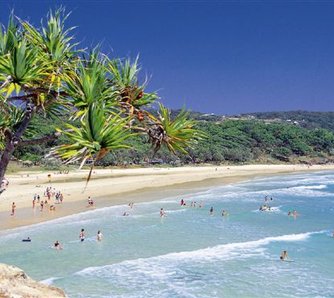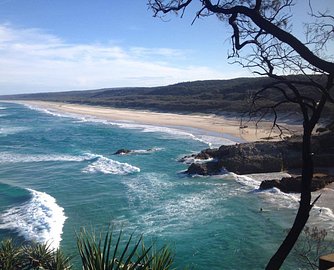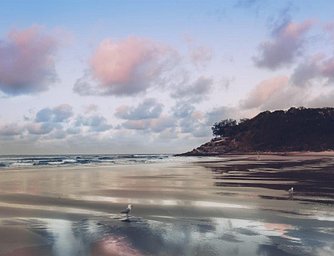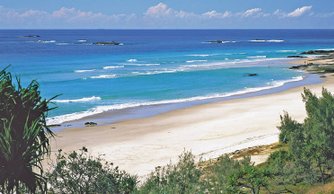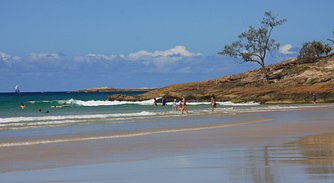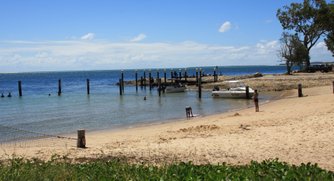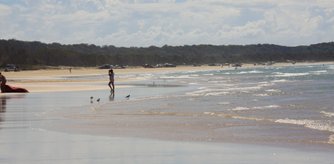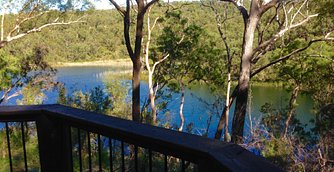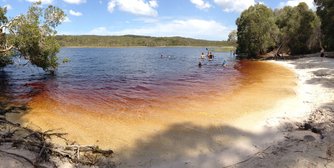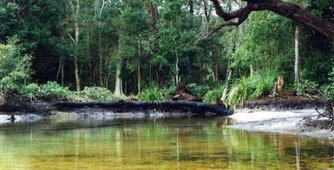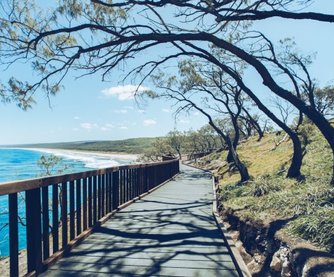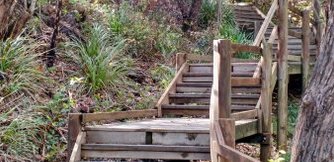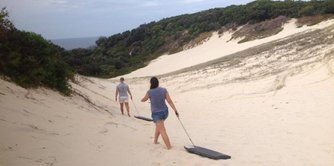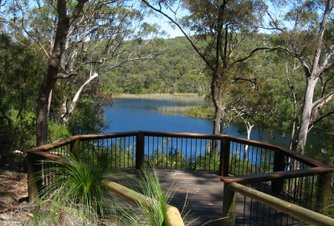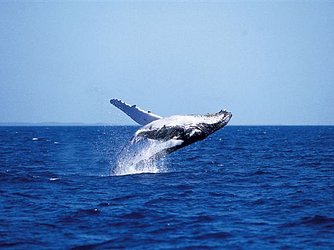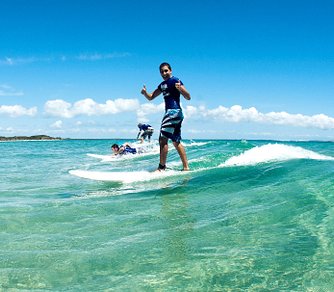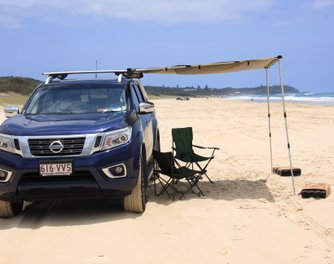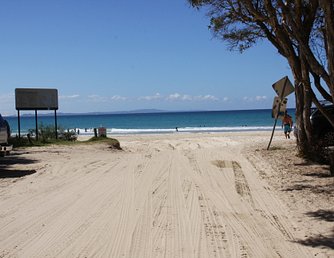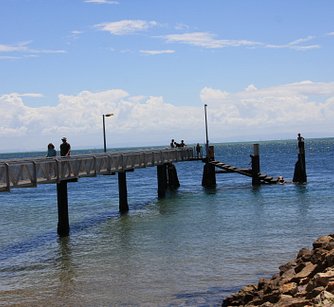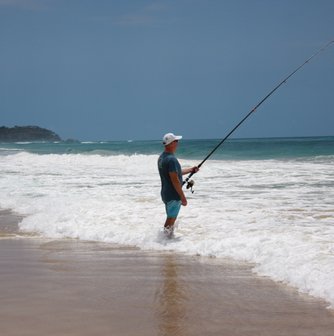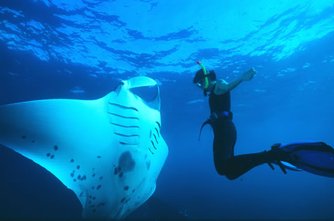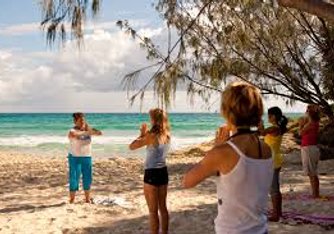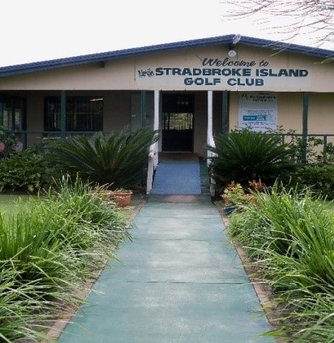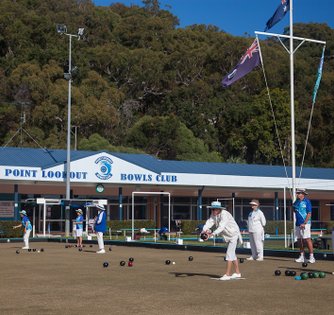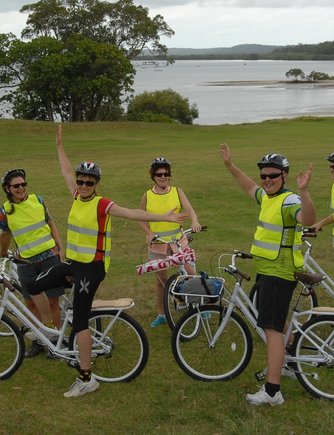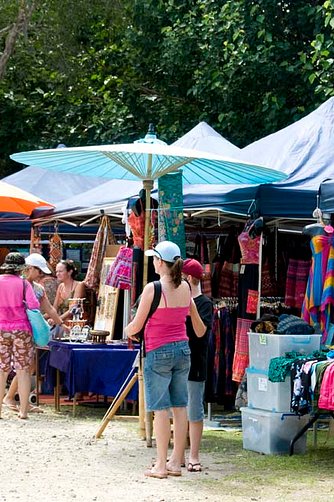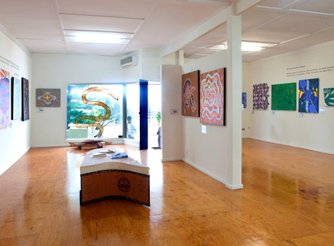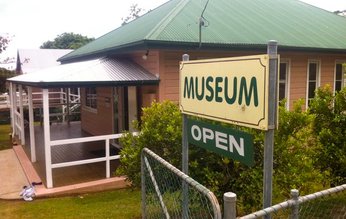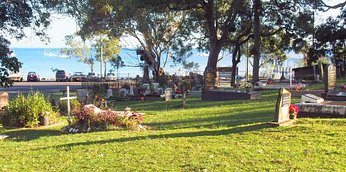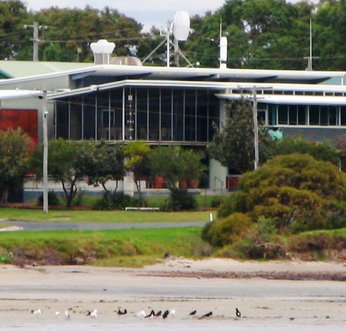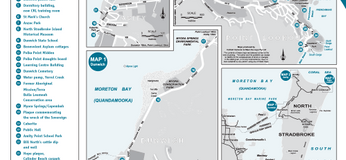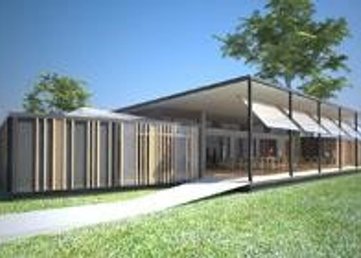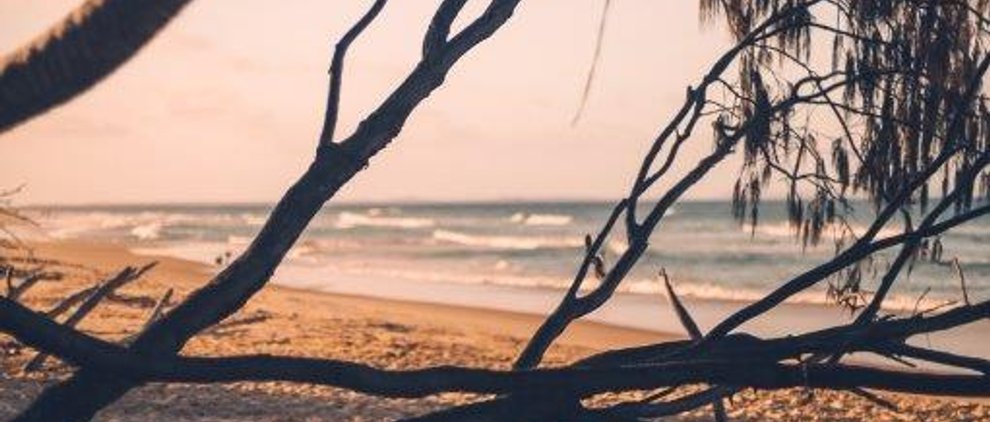 Nature and Sport
Beaches (swimming and surfing)
Cylinder Beach
Cylinder Beach is a picturesque cove between Cylinder and Home Beach Headlands. It is popular with families because it is easily accessible with a carpark situated only metres from the beach.
the waves at Cylinder are often smaller and therefore it is perfect for sun bathing and swimming during good weather conditions. However during strong southerly winds there is a side sweep which may carry you parallel to the beach.
Cylinder Beach is also a favourite with surfers when the conditions are right.
Lifeguards and lifesavers patrol this beach. Beach Patrol hours: From the commencement of Queensland September School Holidays to the first weekend in May. Weekends and public holidays from 8am – 5pm (Saturday), 8am to 4pm (Sunday), extended hours during peak periods are 8am to 6pm (Saturday) and 8am to 5pm (Sunday). A lifeguard service is provided during the weekdays all year round. Times are subject to change.
Main Beach
Main Beach stretches for 32kms of unspoilt sand, dunes and surf. It is popular with board riders and bodysurfers who enjoy the big swells. The waves are large and powerful and the views are spectacular. The headland is the best vantage point for watching the surfing action and spotting dolphins. Main Beach is best during northerly winds, when snorkelling and scuba diving are suitable along the north wall. Avoid Main Beach during southeast wind conditions and always be aware of strong rips and side currents. Lifeguards and lifesavers patrol the beach next to the Surf Lifesaving Club. Beach driving is permitted on Main Beach, a 4WD permit is required. Access to Main Beach with a 4WD is from George Nothling Drive, or the Causeway entry off Tazi Rd, Dunwich.
Beach Patrol hours: From the commencement of Queensland September School Holidays to the first weekend in May. Weekends and public holidays from 8am – 5pm (Saturday), 8am to 4pm (Sunday), extended hours during peak periods are 8am to 6pm (Saturday) and 8am to 5pm (Sunday). A lifeguard service is provided during the weekdays all year round. Times are subject to change.
Home Beach
Home Beach is just over a kilometre of beach stretching from the Cylinder Beach Headland to Adder Rock and is a perfect spot for those relaxing strolls along the beach. Home Beach is not a patrolled beach. Beach driving is not permitted on Home Beach.
Deadman's Beach and Frenchman's Beach
Deadman's Beach and Frenchman's Beach are secluded spots, nestled between North Gorge and Cylinder Beach. These beaches are great places to explore the rock pools where you can see small fish, anemones, shells and crabs. There are no lifesaving patrols on these beaches.
Access to Frenchman's Beach is via a walking track along East Coast Rd, Point Lookout. Access to Deadman's Beach is by walking track from the carpark on top of Cylinder Beach Headland.
Adder Rock
Adder Rock Beach is accessed through a 4WD track next to Adder Rock campground. This beach provides an attractive spot for swimming, and is popular with campers and four wheel drivers. However, there is a side sweep which may carry you parallel to the beach. Adder Rock is not a patrolled beach.
Amity Point
On the western side of the island, Amity Point is a quaint fishing village with a boat ramp. There is a netted swimming enclosure, best at high tide with calm water suitable for little ones. There is also a pier for fishing and good fishing off the rocks which has access to deep water. Beach is not patrolled
Flinders Beach
Flinders Beach is 4.6 kms of beach situated between Amity Point and Point Lookout. Flinders Beach has foreshore camping and is accessible by 4WD only from Amity Point and Point Lookout. Flinders is not a patrolled beach
Lakes
North Stradbroke Island has an outstanding freshwater lake system that has been listed as one of the world's most ecologically important wetlands. These waterways include Brown Lake, Blue Lake, the Keyholes, Eighteen Mile Swamp and a series of small lagoons.
Blue Lake National Park's Aboriginal name "Kaboora" means "silent pool" and offers a quiet haven (501ha) for visitors to appreciate the natural beauty. Early morning or dusk is the best time to see wildlife such as forest birds, goannas and other reptiles. Blue Lake is not accessible by car, and visitors must leave their vehicles in the allocated car park and walk to the lake, which is approximately 2.6km each way. Don't forget to take enough water with you for the whole trip, as there are no facilities at Blue Lake.
Brown Lake is accessible by conventional cars and provides amenities such as picnic tables, wood-fired BBQs and toilets. To access the lake, drive 4km from Dunwich along the sealed Trans Island Road. Brown Lake is a perfect place to enjoy a swim and picnic lunch. a beautiful swimming area, there are also picturesque walking opportunities on which you might spot some of the island's wildlife
Myora Springs
Myora Springs. is 5 kilometers along East Coast Road from Dunwich. Myora Springs,is located on the left hand side of the road. These springs have been a source of fresh water for thousands of years and still have an abundance of wildlife in the surrounding forest. There are no toilet facilities or water available. Perfect spot for cooling off on a hot day.
Walks
Straddie's impressive headland walk called the North Gorge Walk is the best vantage point on the island to watch the whales and marine life pass right before your eyes. The North Gorge headland walk is a must do at Point Lookout. The walking track offers spectacular views across the South Pacific Ocean and is the perfect spot for viewing the abundance of marine life that frolic in the waters off the headland, turtles, dolphins and manta rays can be seen all year round, with the Humpback Whales making an appearance from June to November.
The walk encompasses the best of both worlds, with its raw and jagged headland to one side, and natural bushland on the other, The Gorge Walk also has a unique rock formation called the 'Blow Hole', similar to that of a humpback whale. Kangaroos are also frequently spotted in and around the walk, along with goannas and large blue tongue lizards. The Gorge Walk is a North Stradbroke Island icon and reveals just how pristine and unspoiled the island truly is. Access to the Gorge Walk is on Moloomba Road at Point Lookout, opposite the Oceanic Gelati Shop.
Cylinder to Deadman's Walking Track
There is a walking track that connects these beaches .Access to Frenchman's Beach is via a walking track along East Coast Rd if the tide is low you can walk around the rocks to Deadman's and can come up the steps to the East coast road.
George Nothling Drive to the Sand Blow – Sand Surfing
About 20 m further up the road from Surf Song on the left hand side is an access track, if you follow this track and take the right fork in the track after about 30 minutes there is a short climb, you will eventually come out at one of the highest points on the island. There is a large area of sand drifts which are perfect for sand surfing. Take the boogie boards and have fun sliding down the dunes. It can be quite hot in the middle of the day in summer so plan to go early or late and take water with you
Karboora means 'deep silent pool'. The track is 5.2 km return, approximately 1.5–2 hours walking. Grade: easy.The walk to Karboora (also known as Blue Lake) passes through wallum woodlands with stunted eucalypt trees, wallum banksias and a heath understorey. The edges of the lake are thickly vegetated with eucalypts, banksias and sedges, making it a haven for birds such as honeyeaters and lorikeets. The lake supports waterbirds, such as grebes and ducks, as well as several species of native freshwater fish including rainbowfish and gudgeons. Fortunate visitors may catch sight of a golden wallaby (Wallabia bicolor) —a form of swamp wallaby found only on Peel Island and North and South Stradbroke islands—or, on overcast days, hear the call of the near threatened Cooloola sedgefrog (Litoria coolooensis). This walk is an easy grade; however, the path is loose sand and can be hot in summer. Karboora is a place of significant cultural value to the Quandamooka people
Whale Watching
From June to November each year, the majestic humpback whales pass the North Gorge headland on their annual migration from Antarctica to their calving grounds near the Great Barrier Reef.
Point Lookout is recognised as one of the best land based whale-watching sites in the world. The headland at Point Lookout is approximately 35m above sea level, from which the majestic marine creatures can be seen playing in the warm waters, displaying a series of twirls, waves and dives.
While the calves are still quite young, they begin their southern journey passing close to the coast. The North Gorge offers a breathtaking vantage point and when the tide and sea conditions are right, air whistles through the blowhole – just like a spouting whale!
Whale Watcher's Guide
The Blow This is usually the first sign of whales in the distance or at close range. It appears above the surafce like a blast of steam. This occurs when a whale expels its breath through the blowholes on the top of its head. They release up to 450km/hr and can reach up to 5m in height making it visible from a distance of up to 2km.
Footprints Whales leave a greasy film on the surface of the water, a slick area known as a footprint. This mark is left from the flukes on the whale's tail, from the downward stroke in its swimming motion.
Breaching This is the most spectacular manoeuvre. With two or three beats of its tail, the whale pushes itself into the air throwing itself backwards creating a tremendous slap and splash as its body hits the water.
Spy Hopping Whales are very inquisitive creatures, and it is common for them to poke their heads vertically out of the water and have a good look around.
Pectoral Fin Extension This move will create waves! The whale lies on its back, slapping its fins onto the surface of the water.
Tail Slap This move involves slapping the tail fluke down flat on the water. This can be heard from many kilometres and is a way of communicating position to other whales.
Peduncle Slap The peduncle is the muscular part of the body nearest to the tail flukes. In this movement the tail is slapped in a sideways motion like a karate chop. It is believed to be a sure sign of aggression.
Surfing
North Stradbroke Island Surf School
North Stradbroke Island Surf School is located at Point Lookout on beautiful North Stradbroke Island. The ocean surrounding Point Lookout is crystal clear and home to a great number of dolphins and whales that are regularly seen during lessons. Water temperature doesn't drop below 19C in mid-winter and rises to a tropical 27C in summer.
All equipment is supplied including safe learn to surf boards, rash/sun vests and wetsuits if needed.
Phone: 3821 0266
Email: murraytaylor57@bigpond.com
For more information click here
Beach 4 Wheel Driving
Four wheel drive vehicles are required for driving on Flinders Beach and Main Beach.
A beach access permit must be purchased from Redland City Council before driving on the beach. The 4WD beach permit is valid for 12 months and can be obtained at the Information Centre at Dunwich.
Be aware, the rules of the road apply to all beaches on Stradbroke. The speed limit on Flinders Beach is 40km/h Speed limit on Main Beach is 60 km/h
Access onto the beach and driving a vehicle on the beach one hour before and one hour after hide tide is not permitted.
High tide will be calculated from published tide times for Brisbane Bar with Flinders Beach and Main Beach (minus) 80 minutes. Visit here for more information.
Carry essential spares, spade, recovery strap, tyre gauge for deflating tyres.
Care for Dunes & Beaches
Dunes and beaches can be extremely fragile. The sparse and inconspicuous dunal vegetation is often all that is stopping the dunes from becoming mobile and moving inland. Do not park within a metre on a dune or vegetation.
Enter and leave the beaches at designated beach access points only
Give way to pedestrians – they can often not hear approaching vehicles above the sound of surf and strong winds. Slow down when passing people on the beach.
Use formed tracks only and never make new tracks – reverse back along the track by which you entered rather than turn on the dune.
Where possible drive on the section of the beach between low and high water marks.
Give way to shorebirds, respect resting sea birds by slowing down. The beach is their habitat.
Stradbroke 4WD Tours and Beach Fishing
Explore the hidden lakes, beaches, scenic outlooks, wild flowers, bush, birds and animals.
Or go beach fishing at the famous "Jumpinpin"
Phone 3409 8051 or 0438 098 059
Email straddie4wd@bigpond.com... for more information click here
Straddie Kingfisher Tours
4WD eco tour, Beach fishing, Ocean or Bay Kayaking, Sand boarding, Cultural and bush tucker tours
Phone: 3409 9505 or 0409123 586
Email: info@straddiekingfishertours.com.au
For more information click here
Boating
North Stradbroke Island is a great place for boating with the calm waters of Moreton Bay to the west, the sparkling Coral Sea to the north and the magnificent South Pacific Ocean to the east.
Boat ramps:
There are public boat ramps at both Amity and Dunwich. For smaller boats able to be launched off the beach, access is from the Flinders Beach 4WD road opposite Tramican St in Point Lookout. There is a small amount of protection afforded by the Adder Rock headland.
Fishing
Straddie, boasts a range of fishing options envied by many other locations. It offers anglers the choice of fishing from its beaches, rocky headlands or offshore waters.
The deep clear rainbow channel runs just offshore from Amity making it an ideal spot for casting straight into the deep water from the beach. From September to February this channel is ideal for tuna and mackerel.
4WD enthusiasts have access to bream, whiting, flathead, tailor and dart from the beaches all year round. Whether it be Main Beach or Flinders Beach, depending on the prevailing wind, anglers always have access to fishable water due to the shape of the island. In winter tailor run the beaches chasing schools of baitfish and the anglers are not far behind.
The same fish are available to those who prefer to fish from boats. In addition reef species such as snapper, sweetlip, Jew and parrot are also caught from these calm waters.
South Passage Bar provides access to some of the best offshore fishing available in S E Queensland. Snapper, pearl perch, traglin Jew, sweetlip and parrot are all captured by bottom fishing the close offshore reefs off Point Lookout. For those anglers who prefer trolling, pelagic species such as mackerel, Wahoo and tuna are captured from around the rocky outcrops between Flat Rock and Point Lookout. Sport fishing enthusiasts are also well served, when they target the more exotic species of marlin, sailfish and yellow fin tuna from the deeper offshore waters.
For more information about recreational fishing rules and regulations phone 13 25 23 and follow the prompts to Fisheries Queensland or visit www.fisheries.qld.gov.au
Note: Five Marine national parks (green zones) in the Moreton Bay Marine Park overlap coastal areas on North Stradbroke Island. In these areas all forms of collecting, including fishing are prohibited. Refer to the Moreton Bay Marine Park guide for the boundaries and restrictions relating to zones
Note: All fresh water fish are protected. Fishing or collecting bait in lakes, streams is not permitted.
Mal Starkey's Point Lookout Fishing Charters
Departing from Point Lookout, Mal Starkey's Point Lookout Fishing Charters offers Game and Private charters, which accommodates up to 8 people. Tour includes morning tea, quality fishing equipment, bait and non-alcoholic beverages
Address: 1 Donahue St, Point Lookout QLD 4183 Phone: 0409 618 353
Diving
North Stradbroke Island has some of the best dive sites in South East Queensland, just a few hundred metres from shore. The reefs surrounding Point Lookout are home to turtles, dolphins, whales, manta rays and reef fish. Try snorkelling or scuba diving
Manta Lodge and Scuba Centre – Snorkel and Dive Tours
Phone : 3409 888
Twice daily 2 – 3.5 hours
For more information click here
Yoga
Beach yoga
Start the day in a positive way with beach yoga, held on Home Beach in the mornings daily during the school holidays and most weekends. Look for the chalk board sign
Straddie Home Beach phone: 0409 538 972
Golf
North Stradbroke Island Golf Club
Located on Trans Island Road, Dunwich, the North Stradbroke Island Golf Club is a Par 70, 5258 metres, 9 hole golf course and offers scenic views of Moreton Bay and the Glasshouse Mountains.
The Club welcomes golfers to the course and can also cater for social groups (Booking Essential). The club house offers full bar and catering facilities. Phone (07) 3409 9999
9 hole golf course with 18 tees
Open 7 days a week for golf, breakfast and lunch
Equipment available for hire
Families and all age groups welcome
Free Putt Putt for all ages
Free tea and coffee for visitors
Lots of koalas, kangaroos, butcher birds and magpies
Golf carts available for wildlife spotting
Sundowners by arrangement
Bowls
Point Lookout Bowls Club
Located on East Coast Road, Point Lookout the Bowls Club is open 7 days a week for lunch and dinner. Come for a social game of bowls followed by a refreshing drink and lunch or dinner at the club's full service bar and bistro with budget priced family meals.
Open 7 days a week for lunch and dinner Phone (07) 3409 8182
Full bar and catering facilities
Courtesy Bus
Pokies
ATM
Free pool tables & darts
Cycling
Straddie Cycles
Offering the only guided cycling tours on North Stradbroke Island. Tours provide an intimate experience of the Island that is literally a breath of fresh air. If you are active and healthy, 12 years or older, taking one of our tours is a great way to explore the island.
For more information and to make a booking, please phone 0422 044 761.
Straddie Super Sports
18 Bingle St, Dunwich
Bike Hire available including helmets.
$6.50 per hour
$29.50 per day
Phone: (07) 3409 9252 – Bookings Essential
Also available for Hire:
Kayaks
Stand Up paddle boards
Surf Boards
Beach Umbrellas
Arts and Culture
Point Lookout Markets
Held roughly twice a month, the Point Lookout markets are popular with tourists and locals alike, and are a must-see. The markets are located at the Point Lookout Community Hall, opposite the North Stradbroke Island Bowls Club on Dickson Way, 8am – 12 noon.
An array of gifts, local arts and crafts are available. These include a range of clothing, jewellery, natural beauty products as well as homemade and organic jams, honeys and baked goods.
You can also have a natural, island-themed massage, or even have your tarot cards read!
For stall or more information phone 3409 8798 or 0407130249
2017 Market Dates:
January 1, 8, 15, 22, 29
April 2, 9, 15, 16, 23, 30
June 25
July 2
September 10, 17, 24
October 1, 15
November 12, 26
December 3, 10, 17
Salt Water Murris' Art Gallery
Aboriginal Art Gallery operated by local traditional owner artists. Authentic Aboriginal contemporary arts and craft. Traditional Story-Telling, Cultural Song and Dance by arrangements.
Up to 80 members of the Indigenous community continue to actively participate in Salt Water Murris' Quandamooka practising their air in the community learning centre, exhibiting the SWMQ gallery as well as participating in art commissions, dancing and cultural projects.
Location: 3 Ballow Road, Dunwich
Open: Wednesday – Thursday 10am – 3pm
Friday 10am – 2pm
Saturday & Sunday 9am – 12pm
Phone: (07) 3415 2373 or 0418 781 528
Email: saltwatermurris-q@bigpond.com
For more information click here
North Stradbroke Island Historical Museum
North Stradbroke Island is not just a beautiful paradise; it also has an amazing history which the museum showcases. The museum provides people with an opportunity to learn about the history of North Stradbroke Island, from its Aboriginal history, to its shipwrecks during the 1800s and its current mineral sand mining industry.
Location: 15-17 Welsby Street, Dunwich
Open: Tuesday to Saturday from 10:00am to 2:00pm
Sunday from 11:00am to 3:00pm
Phone: (07) 3409 9699
Email: nsihm@bigpond.com
Dunwich Cemetery
The Dunwich Cemetery is the second oldest cemetery in Queensland. A walk through provides an insight into the different people that have stepped on the shores of North Stradbroke Island and have made it their final resting place.
A trail map that visits all the resting spots of some of North Stradbroke Island's most influential inhabitants is available from the Museum and the Stradbroke Island Holidays office.
The Dunwich Cemetery is a 10 minute walk from the ferry terminal.
Location: Yabby Street, Dunwich
Moreton Bay Research Station
Location: Cnr Flinders Ave & Fraser St, Dunwich
Phone: 3409 9058
The University of Queensland's Moreton Bay Research Station is located at Dunwich on North Stradbroke Island. The station is open certain days of the year for various open days and lectures for both the public and students.
Being so close to one of Australia's largest coastal cities gives researchers the opportunity to study the human impact on Moreton Bay. The Moreton Bay Research Station prides itself on offering a world-class undergraduate field course and also in the promotion of marine science and the cultural understanding of the Quandamooka (Moreton Bay) people.
Talks and tours are held on the 3rd Wednesday of each month at 7.30 – 8.30pm. Admission is free; children are welcome but must be accompanied by an adult.
The Research Station also holds yearly themed open days to showcase the work done by the University of Queensland and the merits of individual researchers. These open days include guided tours of the station and foreshores, talks, sausage sizzles and interactive displays such as touch tanks, aquaria and microscopes
Open Day November 24th- 25th 2017
For more information click here
Heritage Trail
Island Heritage Trail is an adventurous opportunity to find out about the island's rich history including aboriginal culture and the first European settlement. There are a variety of different places of interest across the island. – For more Information pick up a brochure from the Stradbroke Information Centre in Dunwich or the NSI Historical Museum. Tour options are available by appointment.
Point lookout Library
Opening hours
Tuesday: 10:00am to 12:30pm / 1:30pm to 5:30pm
Wednesday: 9:00am to 1:00pm
Friday: 1:00pm to 5:00pm
Closed Monday, Thursday, Saturday, Sunday and public holidays.
Contact details
Telephone: (07) 3409 8036
Redland Libraries email: library@redland.qld.gov.au